Whether you're dreaming of a picnic under a shady tree, a casual stroll in the gardens, or a luxurious getaway, here are ten date night ideas to try while you're in Raleigh.
1. Peruse the North Carolina Museum of Art
For a romantic afternoon spent immersed in a world of art and culture, a visit to the North Carolina Museum of Art is in order. The NCMA's permanent collection began with the purchase of 139 pieces using $1 million of state-appointed funds in 1947. Today the robust permanent collection has grown to emphasize Italian Renaissance and Baroque works, Egyptian funerary art, Classical sculptures, Jewish ceremonial objects, and American contemporary arts. Rotating exhibitions celebrate a variety of artists and media, and typical exhibitions are on display for several months before they change, which means you'll frequently find new additions whenever you visit.

For philanthropists, joining the NCMA for a fundraising event, such as the annual Art in Bloom floral fundraiser, could be a brilliant date idea. Additionally, the NCMA is home to the 164-acre Museum Park, which houses dozens of breathtaking sculptures and integrated artworks and makes for the perfect backdrop for a romantic stroll.

Since its earliest days in 1947, this museum has paved the way for state-funded arts collection and education and was the first major museum collection nationwide to be created through state legislation. NCMA is devoted to arts education and to preserving and protecting genuine artworks, which is reflected in its continuing practice of offering free admission. To maintain appropriate social distancing, NCMA currently requires all guests to reserve free timed tickets to comply with capacity limitations, which allows the museum to continue offering its wealth of knowledge safely to the public.
2. Go Bar Hopping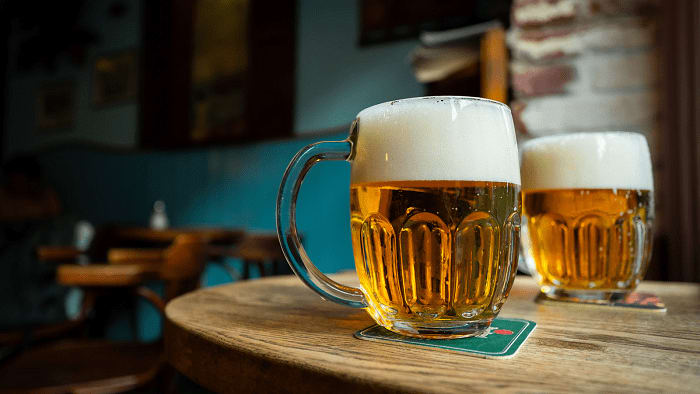 Raleigh is home to numerous outstanding bars that you won't want to miss. At the hip Raleigh Five Points, Lonerider Brewing Company is crafting signature beers and hard seltzers with daring flavors such as True Lime Pale Ale, Deadeye Jack Porter, and Mint Mojito Spyke Hard Seltzer. Split a flight of beers with your significant other. Because Lonerider is constantly brewing up new recipes, you can add this to your date night rotation.

Level7 is a trendy hotspot located on the rooftop at AC Hotel by Marriott Raleigh North Hills. Perfect for a chic first date or an afternoon of appetizers and spritzers with a soulmate, Level 7 takes pub fare to the next level with elegantly plated European-influenced tapas.

For a sleek and sophisticated drinking excursion, head to The Architect Bar and Social House. This pub opens daily at 5 PM and boasts a unique cocktail menu and craft beer list unlike any other in the city. Their experienced mixologists handcraft their fresh and delightful cocktail menu, and this bar is serving up seasonally inspired brews. For an extra special night, consider calling ahead and coordinating a custom-tailored cocktail menu for your occasion.

If you're dreaming of a speakeasy experience, head to The Green Light — a secret room located inside The Architect Bar and Social House — if only you know where to look. Tucked behind a bookcase, this room offers an intimate location that makes for a dreamy date night. Their signature cocktail menu includes drinks you won't be able to enjoy at the main bar, and your date will undoubtedly be impressed with your in-the-know speakeasy savvy.
3. Enjoy an Afternoon Picnic
On Raleigh's southwestern edge, you'll find Lake Johnson Park. This stunning expanse of greenspace around a glimmering lake makes for a perfect picnic destination for two. This 500-acre park boasts miles of hiking trails, plentiful fishing and boating opportunities, and a wealth of breathtaking views that make an excellent picnic backdrop. Pack up all your favorite snacks plus a bottle of wine from Cloer Family Vineyards and relax with your loved one.
4. Relax at the Sarah P. Duke Gardens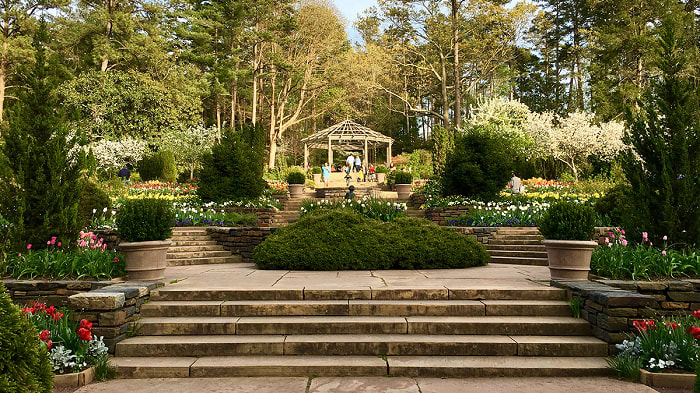 Credit: Cultural Landscape Foundation
The stunning Sarah P. Duke Gardens stretch 55 acres and blend both finely landscaped and woodland areas. This destination in Durham is a beautiful location for a weekend date. Duke Gardens is free to enter (although there is a fee for parking), and these breathtaking gardens are open daily year-round with the exception of national holidays. Start your day at the Historic Gardens, Sarah P. Duke's initial garden location in 1934, and then mosey through the Asiatic Arboretum's bamboo forests, the Blomquist Garden of Native Plants, and the beautiful Doris Duke Center Gardens. With so much to explore, you and your date will want to carve out a day for relaxing amidst Durham's mesmerizing scenery.
5. Dinner for Two at Second Empire
If you're celebrating, there's no better place for a lavish, luxurious dinner than Second Empire. You'll want to call ahead to reserve your seats at this elegant and historic eatery, which resides inside an 1879 Dodd-Hinsdale house. Their dinner menu features exquisite seasonal dishes crafted under the keen eye of Chef Daniel Schurr. Don't forget to ask your server to pair your entree with an appropriate wine accompaniment. For a more laid-back evening, consider grabbing a table at The Tavern at Second Empire, a quiet bar with a distinctly Southern charm.
6. Take a Stroll through The Raleigh Rose Garden
For a truly romantic afternoon, visit The Raleigh Rose Garden, which has been a stunning display of horticulture since it first opened in 1951. Roses typically bloom between May and the first frost of fall, usually in October or November, which makes this public garden a dazzling display of floral blooms. Renting the garden for a particularly special occasion would be sure to make any celebration memorable. Annually, the Raleigh Rose Garden coordinates with the Raleigh Little Theatre for their Art in the Garden arts festival, which would be a spectacular date night destination that actively benefits local theatre productions and promotes the arts in Raleigh.
7. Go Hiking at William B. Umstead State Park
The jaw-dropping William B. Umstead Park spans over 5,500 acres between Raleigh, Cary, and Durham and is a favorite of outdoor enthusiasts. Hikers, bikers, equestrians, and trail runners will all find a place for themselves among the network of trails coursing through this expansive park. The greenspace is home to three man-made lakes, which can be explored with canoe and rowboat rentals. Additionally, the area offers rentable picnic shelters and fireplaces. To fully immerse yourself in the tranquility of nature, consider renting a campsite for an overnight excursion your date will never forget.
8. Rest and Rejuvenate with a Staycation

The Umstead Hotel and Spa in Cary is one of the area's most immaculate luxury hotels, and this 5-star accommodation is a dreamy location for a date night retreat. Situated on 12 acres of stunning High Country hills, this indulgent hotel offers a variety of rooms and suites with balcony views so you can choose the perfect location for your staycation. Revitalize yourself with a trip to the spa, where you can enjoy one of their thoughtful services, such as the 50-minute cherry blossom body treatment, couples massage therapy, or regenerative facials. For a taste of true luxury, make a reservation for dinner at the on-site restaurant Herons. One of only 64 Forbes Five-Star restaurants in the world, this dining experience is unique to The Umstead Hotel and Spa. Whether you join Herons for breakfast, lunch, dinner, or a weekend brunch, you'll be sure to enjoy a decadent meal.
9. Go for Dinner and a Show at Irregardless Cafe
Since 1975, Irregardless Cafe has been a stronghold in Raleigh's music and dining scene, and this location is still a favorite date night destination today. This farm-to-table restaurant specializes in locally sourced ingredients that celebrate farmers and artisans in the Triangle. Their menu includes a wide array of vegan and gluten-free options that help accommodate a variety of diets, so everyone can find something they'll enjoy on the menu, whether it's a bowl of vegan chili, lemon ginger grilled salmon, or a spicy udon noodle bowl. Irregardless Cafe is known for its frequent live music, and you'll want to be sure to check their calendar for upcoming acts to plan your date night accordingly.
10. Chat Over Bunch at Tupelo Honey Cafe
Kick off your weekend with a brunch date at Tupelo Honey Cafe, your new go-to destination for responsibly-sourced Southern food. Their scratch kitchen cooks up all-day eats, but their one-of-a-kind brunch will have you begging for more. Luckily, their brunch menu is served all day long, so whether you're an early riser or a night owl, you'll be able to enjoy their mouth-watering banana pudding pancakes and fried chicken and biscuits. Add a slice of brown butter pecan pie to your plate for dessert and share a sweet with your sweetheart.

For more information on Cary real estate and homes for sale in Apex, contact me today. North Carolina's Research Triangle is brimming with new opportunities, and I'd love to help you find a house that feels like home.

*Header Credit: Tupelo Honey Cafe