Shopping and eating locally is an incredible way to bolster the economy and support your neighbors. Near Raleigh, there is a myriad of small shops and businesses owned and operated by residents. Here are eighteen nearby businesses to love.
Laidback apparel shop Voda Boutique is a women's clothing store that focuses on a trendsetting, easygoing style. Whether you're picking out the perfect accessories, searching for a polished pair of shoes for an interview, or hunting for athleisure staples you can wear indoors or out, Voda Boutique is sure to deliver. Here, you'll find everything from vegan leather pants to comfortable plaid flannels, hats to home goods. Voda Boutique's eclectic mix of cozy loungewear and signature statement pieces makes this local apparel shop one you won't want to miss.
For Latin American cuisine, look no further than Centro. Located in downtown Raleigh, Centro's fast and fun fares pack bold flavors into lunchtime favorites, such as sopa de polla and corona tortas. Adjusting to COVID-19-related service restrictions, Centro currently offers a smaller selection of pick-up items between 4 PM and 8 PM on Thursdays, Fridays, and Saturdays. Their current menu touts both hot-and-ready items as well as take-and-bake platters. Plus, you'll still be able to enjoy drinks by picking up the Corona Traditional Margarita kit, which makes ten margaritas, and all you have to do is add tequila when you get home! Because Centro focuses on local, organic ingredients, you can taste their dedication to fresh, vibrant cuisine.
For a classically made pair of denim jeans, shop at Raleigh Denim Workshop. From restarting forgotten equipment salvaged from old denim factories and reverse-engineering the traditional denim pant, Raleigh Denim Workshop has been dedicated to crafting long-lasting, highly wearable jeans that suit active, modern lifestyles. Raleigh Denim Workshop offers both men's and women's jeans, as well as a cooperative, personalized design experience to create items that don't typically appear in their collection. Their custom label, 1 of 1, creates one-of-a-kind denim goods upon commission.
To shop a curated selection of local artisans, stop into DECO Raleigh. Their specially cultivated collection represents independent creators, local artists, and designers with their robust selection of homewares, books, skincare, and more. Although primarily operating out of their brick-and-mortar downtown storefront, a small collection of gift bundles composed of DECO's collection have been made available online in response to COVID-19. Whether you're looking for velvet-backed notebooks or enamelware pins—or maybe you're not sure what you're looking for—DECO's eccentric collection is both inspiring and innovative.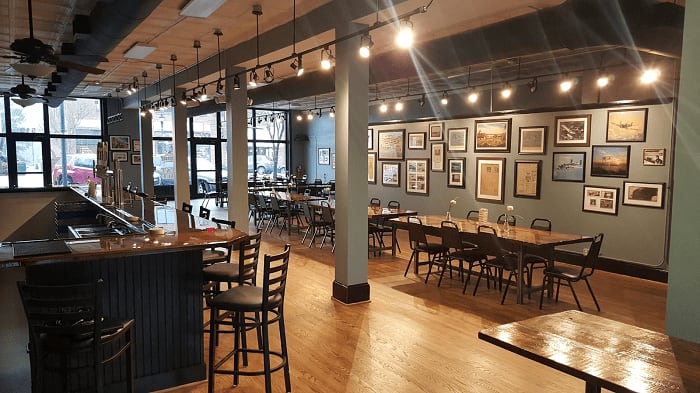 Credit: Aviator Brewing Company
If you love beer, you'll love Aviator Brewing Company. With 24 hand-crafted, award-winning beers, Aviator Brewing Company is a national favorite brewery, but this Raleigh staple is more than just a brewing company. With four locations, Aviator Brewing Company's menus also tout slow-cooked barbecue from brisket to ribs and brick oven-fired pizzas with signature topping creations. Their Fuquay Varina headquarters makes Aviator Brewing Company close enough to stop in for evening drinks paired with a slice of pizza or a pulled pork sandwich.
For anyone with a sweet tooth, Lumpy's Ice Cream is a North Carolina favorite. Founded in 2001, this ice cream parlor utilizes locally-sourced, hormone-free milk and fresh fruits to churn out delicious, more health-conscious ice cream. By removing additives and artificial food coloring, guests can feel good about their dessert. Today, Lumpy's Ice Cream is crafting some of the most innovative flavors around—everything from backyard blackberry to cheesecake, a blend of coffee and cookies, and pistachio and honey. If you're craving something different, recommend a new flavor concoction, and you might see it on the menu next time you stop in!
If you're searching for heartfelt, personalized gifts, Moon and Lola is a Raleigh must-shop. From jewelry designer Kelly Shatat, Moon and Lola is a jewelry, accessory, and lifestyle brand that has been featured in Lucky Magazine. You can find Moon and Lola accessories throughout the nation at boutiques and department stores such as Neiman Marcus and Nordstrom, but the original storefront is right here in Raleigh. With a wide selection of customizable jewelry, including their popular acrylic monogram necklaces, Moon and Lola is an excellent local outlet for thoughtful gifts and souvenirs.
Homemade bread is made right at Union Special Bread. This bright, airy bakery crafts a selection of bread and pastries and has a full-service cafe with an eccentric selection of mouth-watering sandwiches and entrees. With everything from biscuits and sausage gravy to hot vegan sandwiches with whipped tahini and sweet potato steaks, Union Special Bread has a little something for everyone on their menu.
Quail Ridge Books is an independent bookstore that was founded in 1984. In its 37 years of service, Quail Ridge Books has showcased its continued dedication to literacy and enthusiasm for reading by employing a knowledgeable and engaging staff and curating an expansive collection of materials. For avid readers, Quail Ridge Books offers a membership program called the Readers' Club, which provides households with discounts and special offers for only $15 per year. Additionally, shopping at this local bookseller bolsters the community because Quail Ridge Books works alongside local charities, such as the Raleigh Fine Arts Society and Wake County SmartStart, to support Raleigh residents.
Coffee drinkers will love the simplistic approach Black & White Coffee Roasters takes to crafting the perfect cup. By roasting beans fresh each week on Mondays, Tuesdays, and Fridays, these roasters ensure fresh and flavorful brews that taste great no matter how you take your coffee. Black & White Coffee Roasters operates three locations nearby—one in Rolesville, one in Wake Forest, and one at Videri Chocolate Factory in Raleigh.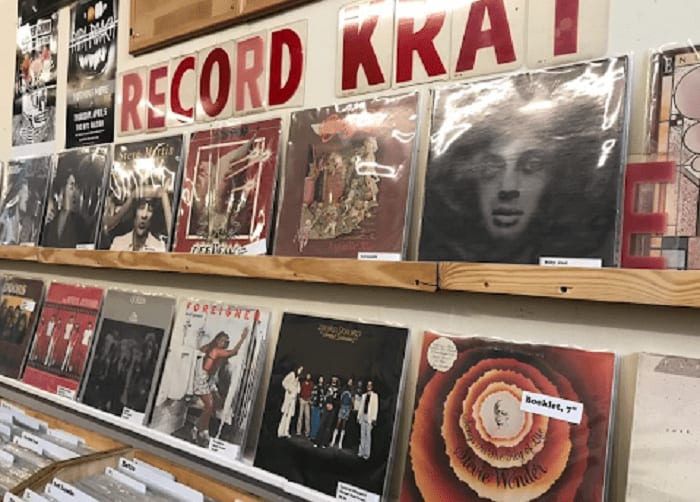 Credit: Record Krate
There is something special about vinyl records that can't be replicated through digital music, and that's where The Record Krate comes in. This new and used vinyl record retailer boasts a wide selection of rock, punk, funk, jazz, and country vinyl, among numerous other genres.
Authentic German pastries are made from scratch at Annelore's German Bakery. With a storefront in Downtown Cary, these delicious German pastries can be enjoyed all year round, and goods from Annelore's German Bakery can also be found at Raleigh's Farmers Market. By utilizing local ingredients from other nearby vendors, including Bee Blessed honey and Britt Farm pears, this bakery creates exceptional pastries that emphasize the elegance of handcrafted baking.
This local boutique is dedicated to supporting global artisans, and The Flourish Market partners with more than fifty worldwide brands that provide fair wages to creators in vulnerable communities around the world. This eclectic boutique offers both online shopping opportunities and a brick-and-mortar storefront in downtown Raleigh. Their catalog includes stunning jewelry, stylish women's apparel, and a selection of home decor, including books and candles.
For carefully crafted leather goods and kitchen wares built to last, consider shopping at Hawks and Doves. Owner Jess handcrafts each item sold by this Raleigh boutique, and she utilizes durable materials, such as thick oil-tanned leather and metal hardware, to create outstanding accessories.
Authentic Greek and Lebanese cuisine are getting cooked up at Jasmin Mediterranean. With seven Raleigh and Cary locations, this Mediterannean menu of fast-casual and healthy foods is always close by. Local produce is touted as the backbone of their creations, and this restaurant is dedicated to whole ingredients and nourishing food.
This local boutique supports emerging artisans to foster a strong sense of community, and Gather Goods Co. is home to a curated selection of homewares, self-care products, and gardening tools to craft a life you love living. With an online shop, it's possible to peruse this store's stunning catalog from anywhere, and their Raleigh storefront hosts classes and events to bring the community together.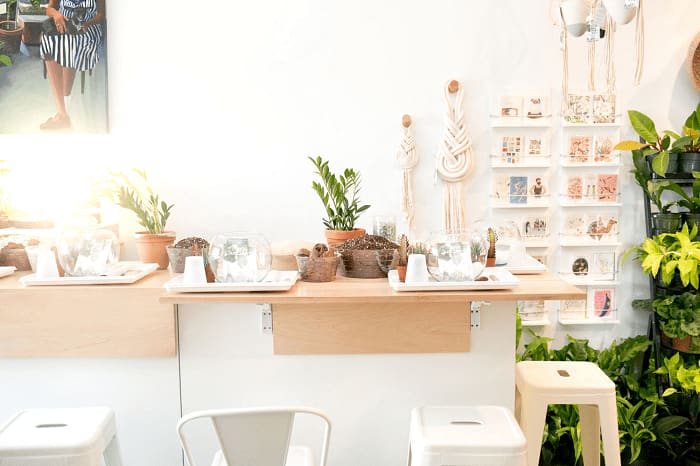 Credit: Zen Succulent
Anyone with a green thumb will love The Zen Succulent. This landscape and terrarium-focused enterprise began in 2016 in downtown Durham, and they have quickly become a Triangle favorite for houseplants, plant care, and stylish pots for green decor.
Holl & Main is a women's clothing boutique specializing in day-to-nightwear that feels both high-end and approachable. Since opening in 2018, Holl & Main has offered an exquisite shopping experience supported by their emphasis on excellent customer service and stylish pieces that suit numerous lifestyles; women from all walks of life feel welcome in their store.

With so many incredible local boutiques, breweries, and eateries near Raleigh, it's easy to shop small and support our community. If you're interested in learning more about Cary real estate or homes for sale in Durham, contact me today for more information.