According to a study done last year by the Journal of Real Estate Finance and Economics, a house with charming curb appeal sells for seven percent more than comparable homes — and sometimes that figure jumps to 14%! It's clear that curb appeal is vital to homeowners hoping to sell, as potential buyers start forming an opinion about the property before they even step inside. You want to make sure that you put your house's best foot forward and help buyers feel at home too.

Read on for nine tips about how to boost your home's curb appeal and simultaneously boost your home's value.
Refurbish the front door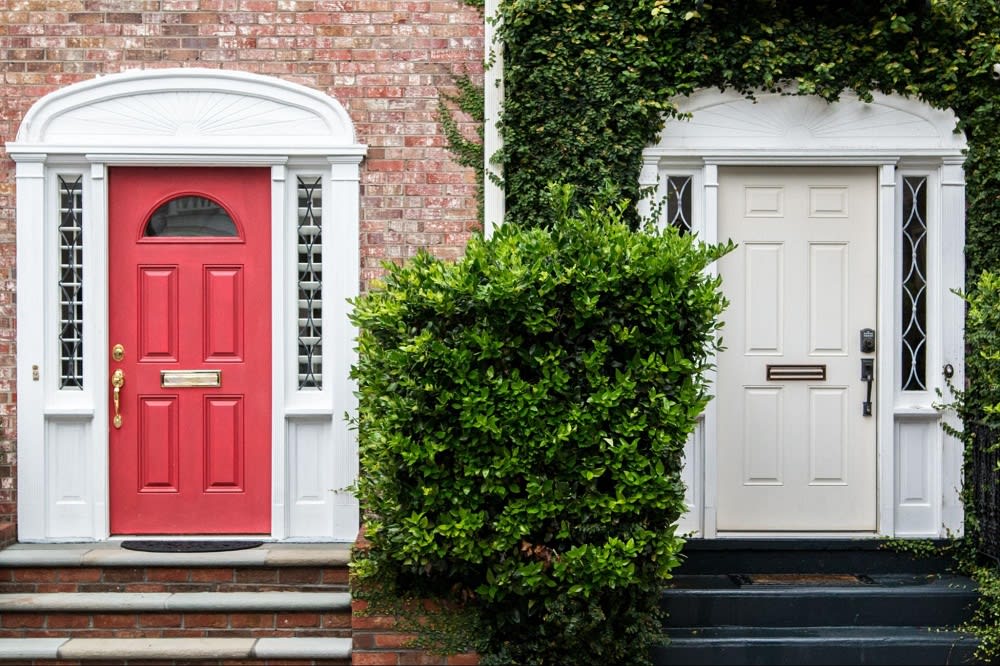 Credit: Landon Martin
The front door of your home adds a lot of character. If it's already painted, give it a fresh new coat of paint to ensure it looks clean, fresh, and inviting. You aren't limited to natural wood or white doors, either — colorful front doors are also a fantastic way to help your home stand out from the rest. Some classic colors for front doors are red, light blue, or dark blue, but if you would rather think outside the box, go for it! A light lilac-colored door gives your home a cottage-like, magical charm and would complement lilac or lavender bushes. A dark or muted teal feels classic and full of Old World elegance, while a brighter shade of teal lightens your entire entranceway.

When it comes to choosing a color for your front door, the rule of thumb is to make sure that the color complements the rest of your home, including the exterior walls and the colors of your landscaping. Dark brick, siding, or paint goes well with lighter colors, and light brick, siding, or paint pairs perfectly with deeper colors. If you aren't sure which colors complement each other, you can use a site like coolors.co to browse popular color palettes and create your own.
Plant colorful flowers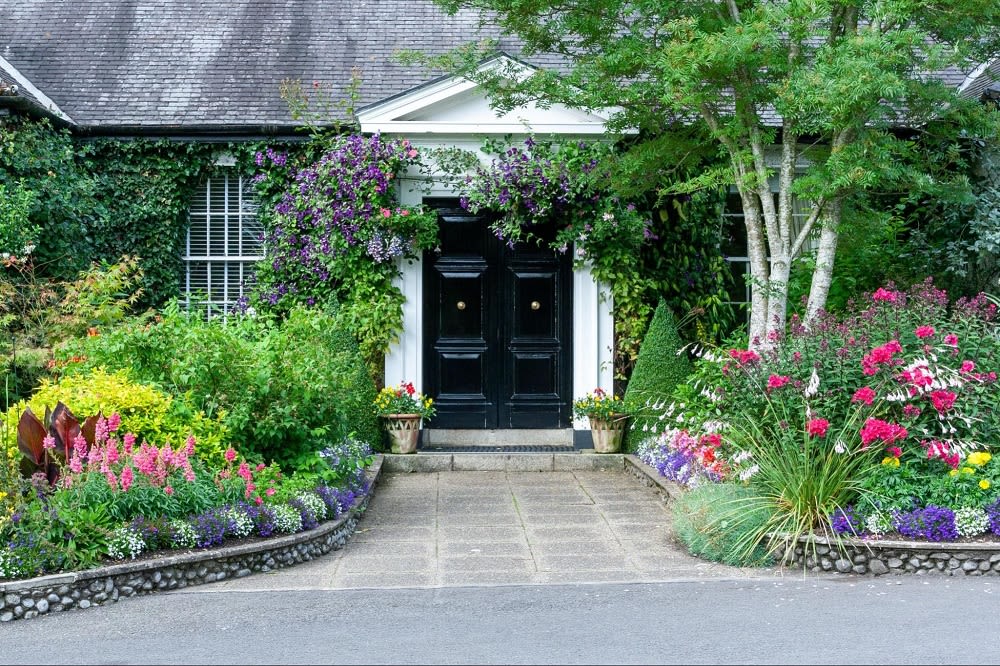 Credit: Dimitry Anikin
On the topic of color — there's no better way to brighten up your home than with carefully chosen, colorful florals. While you might focus on having a pristine green lawn, having a variety of landscapes breaks up the monotony and adds interest. Hydrangeas are a popular choice to add florals since they are large, lush, and lovely. They also come in a range of shades, from pink to blue to white, so they can easily be matched to your home. Azaleas, geraniums, and rhododendron are colorful, high-flowering bushes that are also popular landscaping choices, and you can never go wrong with a rose bush or two.

Some homeowners create small pollinator gardens, which are beds full of native plants and wildflowers that attract honey bees and butterflies. You can look into native plants, or even your state's official flower, to honor your region and add a homey touch. For example, if you're trying to compete with other homes for sale in Raleigh, you can pay homage to North Carolina by incorporating the dogwood, the state flower, into your landscaping.

Another simple way to add charm to your home — and make your front lawn slightly more private — is to add shrubs and flower bushes to the edge of your lawn that borders the sidewalk as well. This ties your landscaping together and helps create a nice separation from your property and the street.
Dress up your windows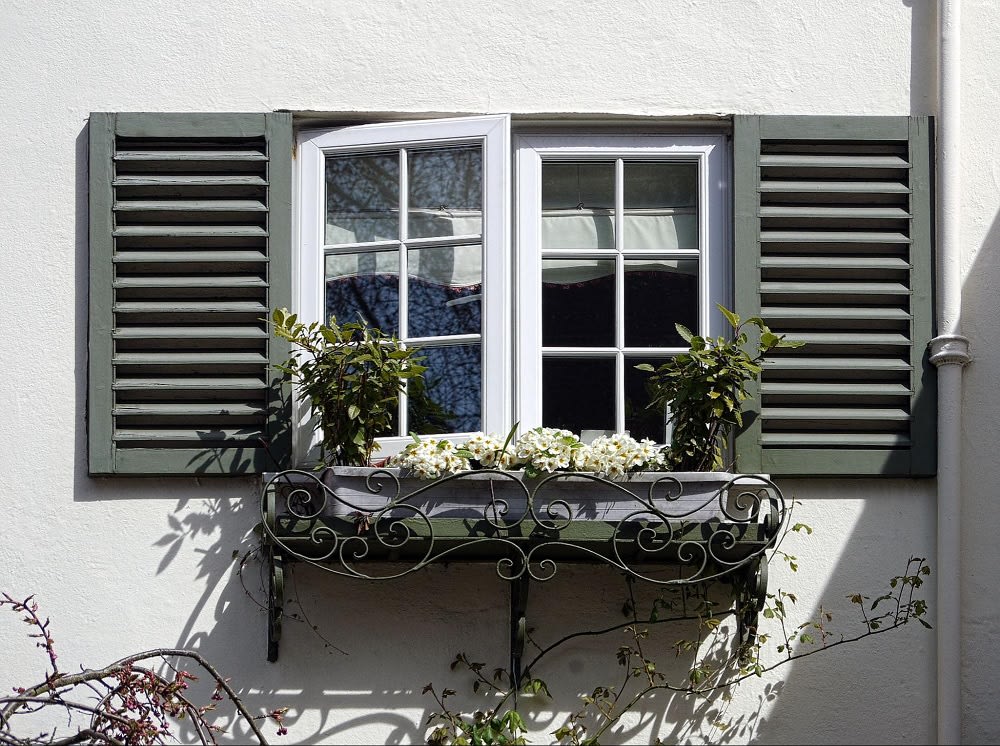 Credit: Brett Jordan
You've heard the saying that eyes are the windows to the soul — well, literal windows show the soul of your home! When people think about curb appeal, they might not immediately think about the way their front windows look from the yard, but simply dressing up your windows can make a massive difference.

Window shutters are classic, popular, and inexpensive ways to add interest to your exterior. You can pick up a set of wood or vinyl shutters at your local hardware store; make sure to match them with your front door for maximum curb appeal! If your home already has shutters, don't forget to refresh them with a new coat of paint so that they look like new.

Another way to liven up your windows is by using flower boxes. Well-chosen florals brighten up the front of your home and can tie in with your landscaping. A shutter and flower box combination is charming, classic, and cozy.
Polish up your porch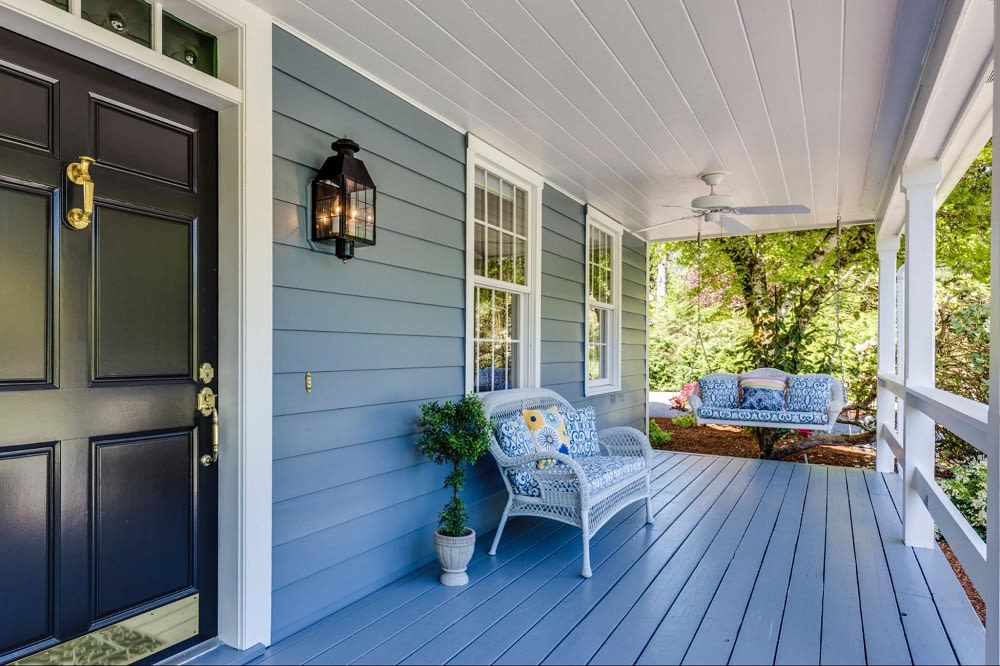 Credit: Francesca Tosolini
Your porch frames your front door, and it's just as important as the rest of your yard. Potential buyers want to visualize themselves relaxing on the front porch with a glass of lemonade or sweet tea, so you want to make sure to help sell them that fantasy. A bench, swing, or even bistro table and chairs are a worthy investment. Make sure that your furniture — along with any upholstery — is nice and clean.

This is another perfect opportunity to tie in your home's color scheme; look for colors in your color palette that complement your front door and trim. If you don't have a covered porch, you can still add a small garden bench or Adirondack chairs for charming front yard seating. Flowerpots are also a great way to dress up your yard. Mix and match various sizes of potted plants for added interest, and hanging flower pots are perfect for a covered porch.
Spruce up your home's hardware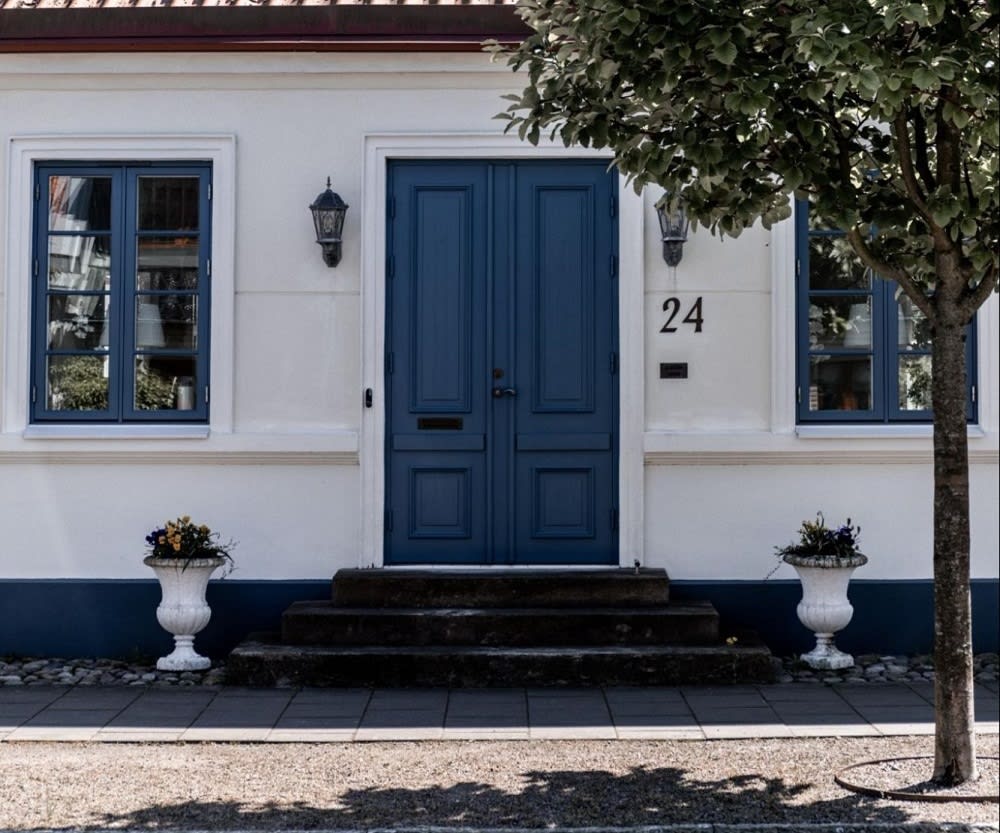 Credit: Storiès
Updating your hardware is an excellent way to give your home a subtle makeover. For example, investing in a new door handle can elevate your front door to a whole new level of style, and adding a door knocker brings instant character to your home.

Dated light fixtures are also worth replacing to bring your home into the present. Black hardware is on-trend and adds an aura of sophistication to your exterior. It's also simple and easy to color-coordinate. Satin brass, oil-rubbed bronze, and antique bronze are classic options.

Carriage-style garage doors are also becoming increasingly popular, but if you don't have the budget for a whole new garage door, you can easily find hardware kits to imitate the look of a custom one. You can also invest in new house numbers to match the rest of your hardware and ensure that your address is easily visible from the street.
Create a welcoming walkway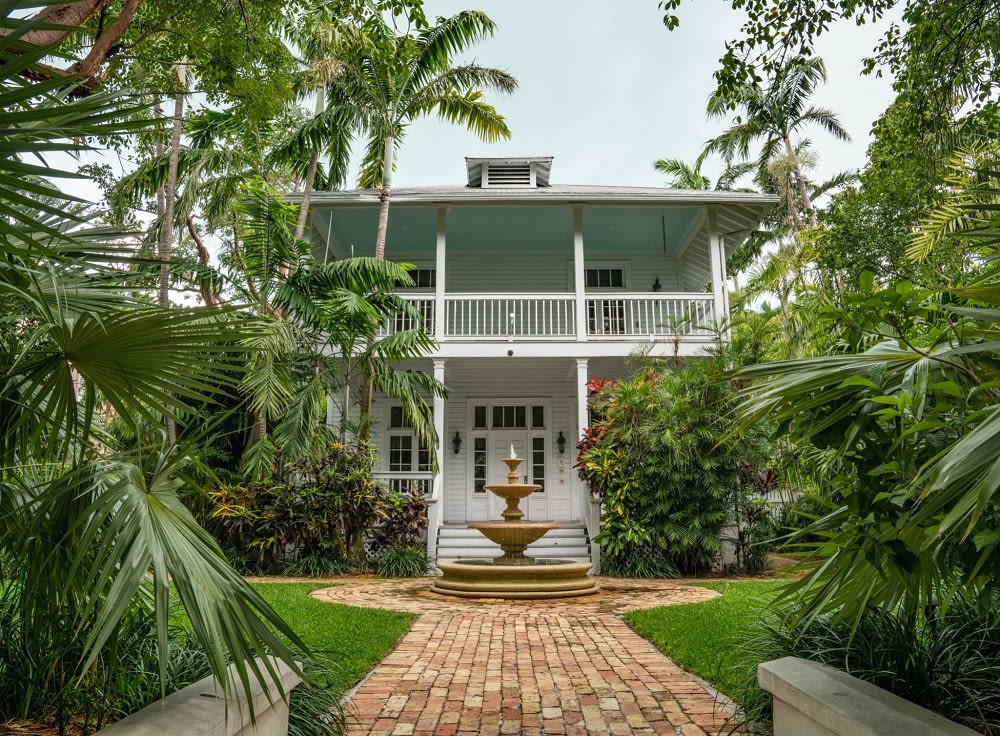 Credit: Joshua Case
Many homes don't have a path right to the front door from the sidewalk. While this is no problem for homeowners who use their garages, this is an absolute curb appeal killer. You want to draw the eye of potential buyers right to your front door, and a nice, simple walkway is a perfect way to do so. Depending on your style, you can use clean, modern pavers or more cottage-like stepping stones. If you already have a path, don't be afraid to dress it up by lining it with flowers or shrubs.

A flowering arch or even a front gate can add some rustic charm, and don't forget to illuminate the pathway with outdoor lighting. Solar lights are small, stylish, and environmentally friendly, and you can pick them up at your local hardware store.
Clean your gutters and pipes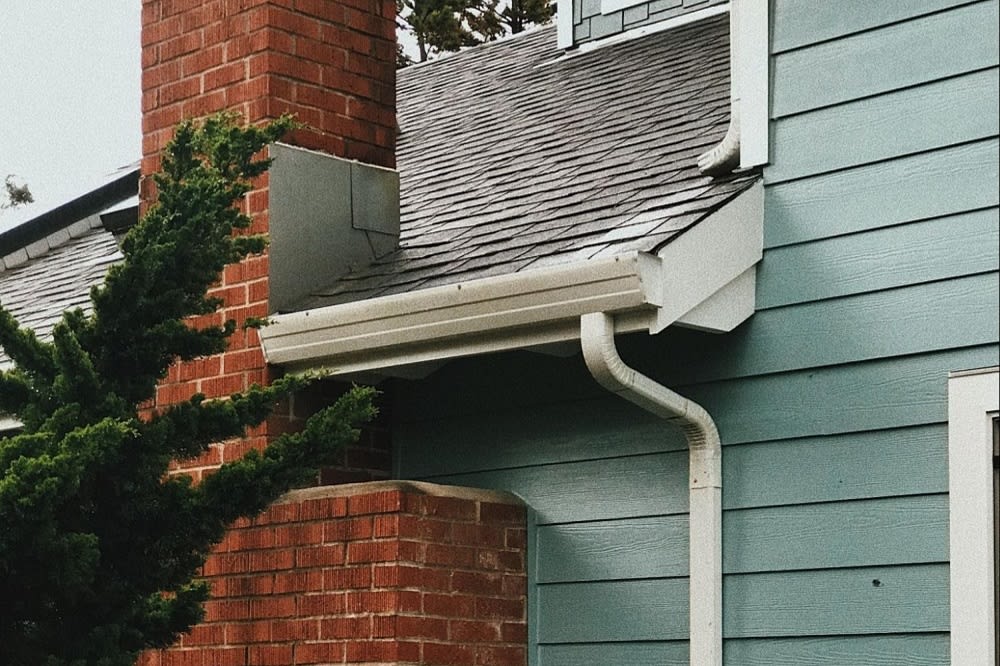 Credit: Zachary Keimig
Nothing will ruin your hard work on boosting curb appeal more than dirty gutters and rusty drain pipes. Make an appointment with a local cleaning company, or bring out the ladder yourself to clean old leaves out of your gutters. If your gutters and drainpipes have seen better days and look chipped, rusty, or dirty, you can always give them a fresh coat of paint. White is the classic choice, but you can paint them to match the trim of your house and blend with your color scheme.
Deep clean your pavement and siding
The final step to boost your curb appeal is deep cleaning everything that you may have been putting off. That means bringing in a pressure washer to clean your driveway and pavement of dirt, moss, and even algae. Similarly, it's the perfect time to give your exterior walls a good scrub. Dirt can collect over time and is especially apparent in lighter-colored homes. If you live in a wet or humid climate with a lot of moisture in the air, you might even notice green stains on the siding of your home. This could be moss or algae, and it is a little trickier to remove than dirt, but the hard work is worth it to boost your curb appeal. You don't want all your hard work ruined by dirty siding and unsightly stains, so do not skip this step!
Ready to list your home?
Now that you know the nine tried-and-true tips to boost your curb appeal, you're one step closer to listing your home! If you're in North Carolina and on the lookout for a realtor to work with you and your family, Cindy Poole Roberts is a real estate agent based in Raleigh with over 20 years of experience. From Wake Forest to Chapel Hill to Durham real estate, she knows the local communities inside and out. To learn more, get in touch with Cindy today.