Before 2020, most Raleigh residents went about their daily lives on the go. Day-to-day rhythms included commuting to work, spending the day at the office, and making the most of evenings and weekends by making plans with friends and family. With the onset of the Covid-19 pandemic, our lifestyles were abruptly halted in place. As a result, Americans were faced with being confined within the four walls of their homes during the lockdown. Like many aspects of our daily life that continue to be impacted by this event, design trends have evolved to accommodate our changing world, as well. As our lives start returning to normal in early 2021, let's take a look at all of the exciting design trends that are dominating the scene this summer.
An Array of Aesthetics
As an overarching theme, most design trends this summer have taken on an air of providing a sense of sanctuary and comfort. Whereas time before the pandemic was spent sparingly at home, the shift towards staying home has made residents crave a feeling of safety and luxury in their space. Dovetailing perfectly with these concepts is a new range of design aesthetics taking the world by storm from cottagecore to Japandi to vintage.

The Cottagecore trend burst onto the mainstream design scene during 2020 and has impacted industries from fashion to hobbies to interior design. Essentially, cottagecore is a nostalgia-based ideology based on agriculture life, skills, and crafts of the past. Reminiscent of the rural countryside and vintage romance, trend adopters have incorporated this aesthetic into hobbies like baking sourdough, gardening, and learning embroidery. The basic tenets of designing a room with cottagecore in mind include natural, sustainable, and simple pieces. Go-to materials for cottagecore are wood, wicker, and rattan. Also, adding touches of greenery and cut flowers are a perfect way to emulate this style.

With 2020 inspiring nostalgia in all forms, it is no surprise that vintage aesthetics have reemerged as an interior design favorite. People are purchasing upcycled, salved, or antique furniture pieces in tandem with bold colors and quirky decor to create a feeling of vibrancy and cozy-ness. Since the vintage look layers many different elements, it takes time to curate the right pieces to complete the room. And, you can't go wrong with adding luxe fabrics and statement lighting to bring this aesthetic back to the modern day.

Contrasting these whimsical and potentially cluttered aesthetics is Japandi, a careful blend of Scandinavian and Japanese styles. This aesthetic features the simplicity, wood floors, and bright floors of Scandinavian style with the muted colors and natural materials of Japanese style. By making the focus of the room simple shapes, rattan, and natural wood, this look is undistracting and homey. Textural, soft fabrics invite residents to sink into soft, plush furniture that features clean lines. This minimalist aesthetic features muted colors, plain walls, and elegant grasses in simple vases.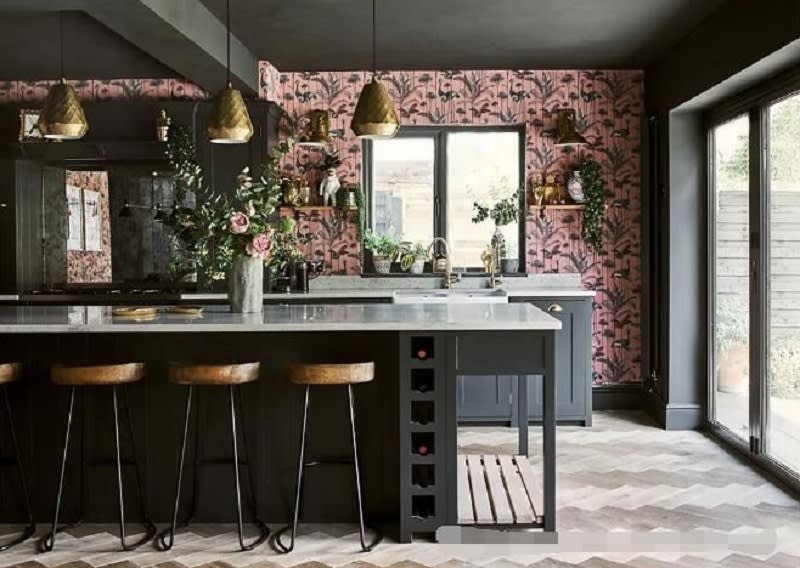 Credit: Hebei Sinostar
A Collection of Color Schemes
With the shift towards staying home more in 2020 and early 2021, interior design trends have shifted towards color palettes that lend a feeling of comfort and luxury. Color forecasters have curated the summer season's trendiest color combinations, from fashion runways to trade shows to the houseware industry to decide the hottest color schemes for summer. Let's take a look at the most popular summer color trends like earth tones, ocean hues, and the Pantone Colors of the Year.

Following suit with First Dulux's Color of the Year, Brave Ground, as well as Sherwin Williams' Urbane Bronze, it's truly all about the earth tones this summer. Calming colors such as rust, sage green, deep red, rich brown, pale pink, and inky blue will be popular this summer. Spending time surrounded by these colors is sure to bring us closer to nature and create a sense of sanctuary from the chaos of the outside world.

Also dominating the design scene this year are beautiful colors reminiscent of the ocean. In fact, Benjamin Moore's Color of the Year for 2021 is Aegean Teal. There's no doubt that being cooped up at home and being unable to visit the beach has made us all crave bringing the ocean inside to us. With blues ranging from dark, inky blue to faded aqua, this hot summer color is the perfect way to create tranquility in our homes.

Lastly, keep an eye out for Pantone's Colors of the Year, Ultimate Gray, and Illuminating. By choosing the practical, rock-solid gray contrasted with the warming, optimistic tone of the yellow, Pantone intends to grasp the feelings of deep thoughtfulness in tandem with hope and bright sunshine. Keep an eye out for these distinct tones in industries ranging from fashion to textiles to technology.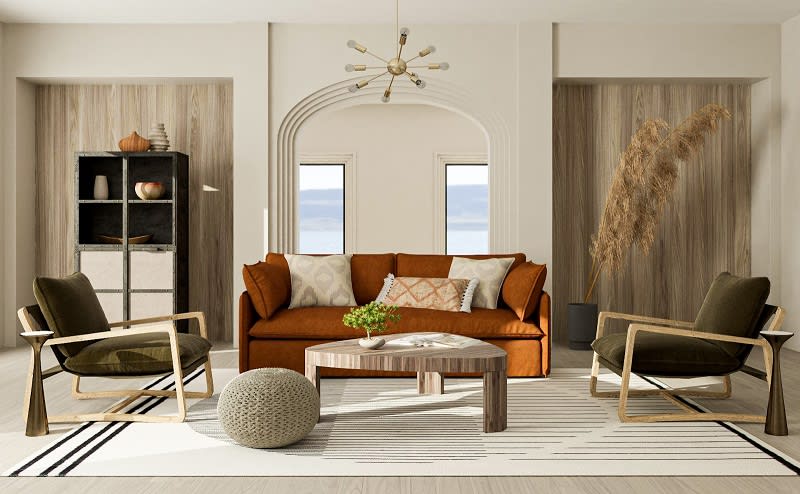 Credit: Modsy
Plenty of Plants
The recent world events have made us all hyper-aware of the fragility of our planet and ecosystem, so eco-friendly and sustainable products have emerged as a top design trend this summer. As previously mentioned, many people have opted to purchase vintage or upcycled pieces instead of the fast furniture that has dominated the scene in recent years. Although there are endless ways to embrace this earth-friendly trend, start by introducing sustainable materials, rattan and wicker pieces, and lots of houseplants.

While eco-friendly products are all the rage this season, sustainable material options have become a top trend this season. Bamboo, recycled metal, reclaimed wood, and cork have all emerged as beautiful materials that are also gentle on the environment. While bamboo can be used for everything from flooring to furniture to fabric, cork is another excellent option that mimics hardwood closely. Also, reclaimed wood or recycled metal are wonderful ways to utilize recycled materials and add a one-of-a-kind flair to anything from mantels to light fixtures to accent walls.

Next, the trend of sustainable materials is elevated further with the popularity of furniture and accessories made of natural materials like rattan and wicker. These elements can be subtly introduced with planters, wall shelves, or storage baskets or represented in statement pieces like furniture.

Lastly, if there's any trend that has taken the design world by storm this summer, the newfound love for indoor plants is unmatched. WIth houseplants giving people stuck at home a purpose by needing daily care and nourishment, houseplants have also been a meaningful way to keep us in touch with nature. Additionally, houseplants also bring a sense of calm and purify the air.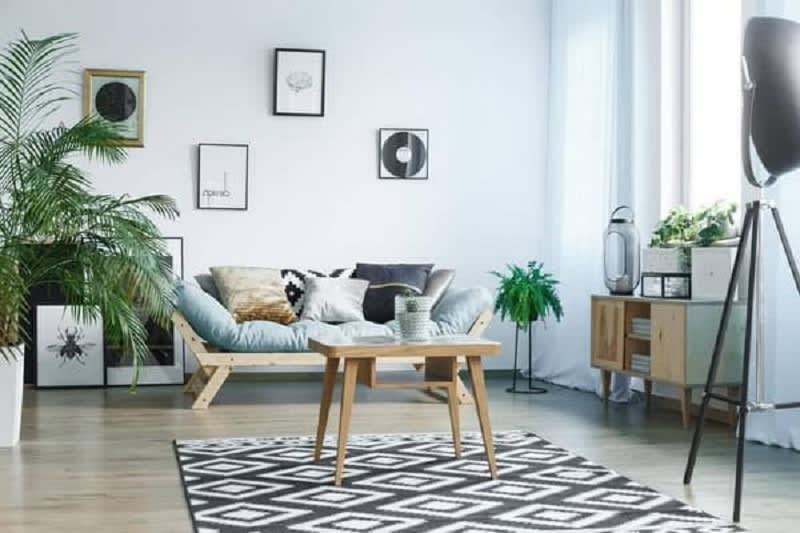 Credit: New Decor Trends
Lots of Luxury
Another fashionable summer trend to incorporate this summer is to add glamorous hints of luxuries to our homes. Being cooped up inside for a year has made it increasingly necessary to make existing living spaces more comfortable and create areas within the home that can be used as a retreat. A few ways to do this are upgrading accessories and finishes, selecting plush furniture, and curating art or wall decor.

The first trend contributing to this ideology is simply upgrading elements like throw pillows, rugs, and wallcoverings with luxurious alternatives. Keep an eye out for luxe fabrics like velvet and cashmere as a fantastic way to create an opulent space, and watch for wallpaper to make a comeback this year as an easy way to add bold shapes and interest.

Next, furniture trends for this summer will boost comfortable, lived-in furniture to the forefront. In addition to the advantages of purchasing secondhand furniture, being surrounded by furnishings that offers longevity, quality, and durability is an excellent way to feel grounded and calm when at home. Plus, there is no better way to end the day by sinking into a plush, velvety couch.

In harmony with the trend of nostalgia and sentimentality is a new trend that some have lovingly nicknamed "granny chic." In short, this trend encourages the selection of antique paintings, handmade candles, and other accessories created by local artisans to add a delicious touch of luxury to your space. Spending so much time at home means that it's important to harbor a deep appreciation for every element in your space as it contributes to your overall happiness and well-being.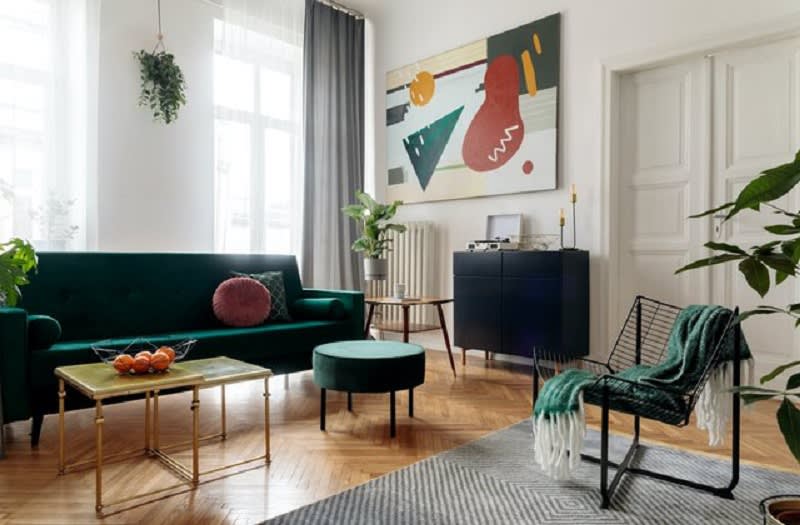 Credit: US News Real Estate
With so many exciting design trends that have emerged this summer, there is virtually no better time to purchase a home for implementing all of the ideas you have for incorporating them into your space. Are you searching for Raleigh homes for sale? If so, then call Cindy Poole Roberts, the foremost realtor in Raleigh, to partner with the very best that the area has to offer. With over twenty years of experience under her belt navigating the Raleigh real estate market, Cindy has an unmatched drive and passion for helping her clients land their dream homes. Contact her to get started today.